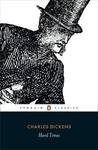 Hard Times
by
Charles Dickens
My rating:
3 of 5 stars
I listened to Anton Lesser's superb narration has pulled me into a story I frankly feared because of the reputation. None other than G.K. Chesterton succinctly remarked:
Twenty times we have taken Dickens's hand and it has been sometimes hot with revelry and sometimes weak with weariness; but this time we start a little, for it is inhumanly cold; and then we realise that we have touched his gauntlet of steel.
Early on, I was surprised to hear of a school and household where not a drop of fantasy is allowed. Only the facts. Whether they convey the truth is a different matter, of course. This put me in mind of J.R.R. Tolkien's famous essay about why children, and indeed all of us, need fantasy. (
On Fairy Stories
. Dickens' story makes the point before Tolkien did.
Then I was stunned to see that Dickens shares the poignancy of the sadness, or should we say the tears, of a clown. Dickens strikes first again, beating Motown to the punch.
It is clear that we've got a lean, stripped down, no nonsense Dickens here. And yet, I was still enthralled. A large part of this was due to Anton Lesser's skill which carried me away on the story, breathless to see what would happen next despite the Hard Times which all the characters face. Knowing how Dickens loved theater and gave many of his own public renditions of his stories, straining his health in so doing and contributing to his early death, I believe he would approved.
I was really surprised to like this book as much as I did. It was as if Dickens took a good look at one of the subplots he couldn't cram into Bleak House and decided to just make a novella of it instead. Dickens always has enough alternate subplots in a book that he could easily spare this set of characters to make his point about Utilitarianism.
I called this a "novella" but, of course, that is only because I'm used to Dickens' average high page count. This is a 321 page book, 9 cds long if you go by audiobook, which I did most of the way. Toward the end, as usual, I had to abandon the audio and go for print because I just had to know what happened as soon as possible.
The book was not as "hard" as I expected. I feel Oliver Twist has much more difficult passages. It is just that there is not the usual complement of comic characters to lighten the way for us. When I saw that this was written between Bleak House and Little Dorrit the darker tone made sense also. Those are two of my favorite books but there is no denying that the later novels have a darker edge which fits right in with this book.
I'd have given it 3-1/2 stars but rounded down simply because it is a lesser novel. Definitely recommended. Be not afraid.